African startups raised a record $1.19bn VC funding in H1 2021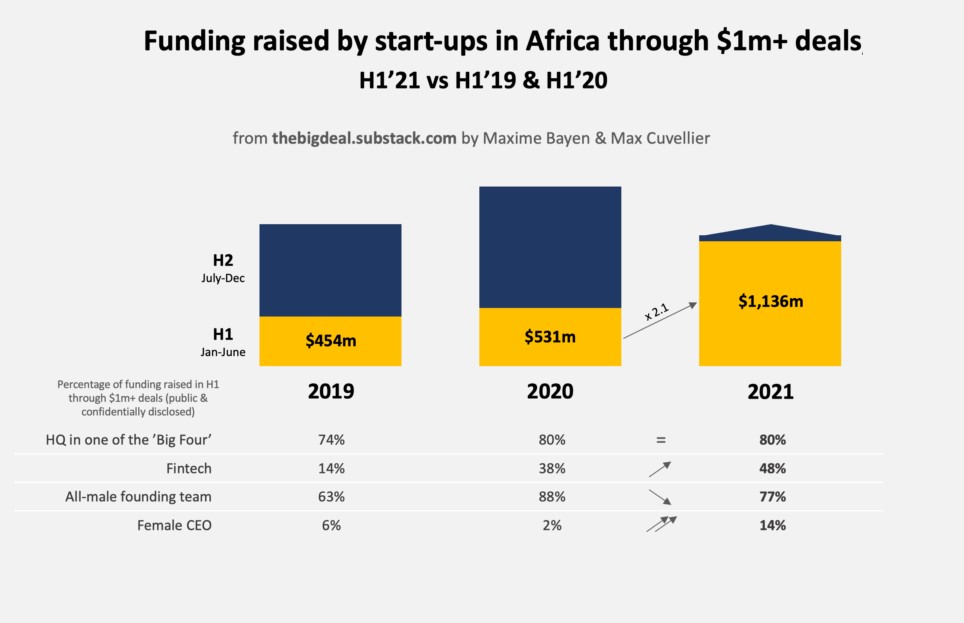 In just six months of 2021, startups on the continent have raised a whopping $1.19 billion in funding, with deals worth $1 million and above accounting for about 95% ($1.14 bn) of it.
According to a report released by Maxime Bayen, a Senior Venture Builder for Catalyst Fund at BFA Global, this number is more than double the amount raised during the same period last year.
Africa's 'Big Four' — Nigeria, Kenya, South Africa, and Egypt — maintained their status as important investment destinations, with funding in startups headquartered in one of these countries accounting for 80% of all startup funding in this period. Nigeria and South Africa account for 56% of the financing in these countries. 
With the coronavirus pandemic expected to affect investment activities, in May 2020, AfricArena, an African tech accelerator, projected that startups on the continent would receive between $1.2 billion and $1.8 billion in venture funding in 2020. Partech Africa and Briter Bridges reported that African startups ended the year with $1.4 billion and $1.3 billion, respectively.
Data from Digest Africa, an investment news platform, seems to support Bayen's conclusions. Every month, they have released a roundup of deals completed in the preceding month. Crunching the numbers in those reports puts the total funding from January to May 2021 at $956.2 million, $233.8 million less than Bayen's $1.19 billion. 
A closer look at Digest Africa's numbers reveals that funding for African startups grew steadily from January to March before dropping off in April. Things picked up again in May, with investments going from $78 million in April to $208.5 million in May.
According to Digest Africa, the most significant investments went to Expensya ($20 million), Gro Intelligence ($85 million), TymeBank ($109 million), and Flutterwave ($170 million). Comparing the amounts raised by African startups since 2019, it took nearly 11 months for funding in Africa to hit the billion-dollar mark in 2019, 9 months in 2020, and 5 months in 2021.
The Covid-19 pandemic and the ensuing lockdown contributed to a slump in investment activities as investors' interests dwindled due to uncertainties. But as lockdowns were eased globally, things picked up in the second half of the year. As vaccination numbers across Africa pick up and economies stabilise, investments in African startups could also see an increase.
Limited startup funding to Lusophone countries
Meanwhile, few startup-funding mentions include Angola, Cape Verde, Guinea-Bissau, Mozambique, São Tomé and Príncipe, or Equatorial Guinea. The Portuguese-speaking Lusophone African countries like these are getting very few national startups funded.
This is not, however, because of any lack of quality. Countries like Angola and Mozambique are home to some standout startup success stories. For example, Angolan recruitment startup Jobartis has acquired 500,000 users in Angola and has expanded to Cameroon, the DRC and Zambia. Another flagship Angolan startup is delivery platform Tupuca, which, like Jobartis, has been a local winner of the global Seedstars World competition and aims for regional expansion.
However, international investors have shown limited interest in Lusophone African based startups for a few reasons:
The majority of the venture capital funds and private investors are English speaking. Their economic and cultural ties to the Lusophone African region is weaker, reducing their knowledge of the market and their interest. While though Angola is a large market by African standards, Lusophone countries combined are smaller than the English and French-speaking communities.
The macroeconomic situation has also been a critical factor for the region, especially Angola, as the continent's second-largest oil producer has experienced five consecutive years of recession. In this period, Angola has experienced high inflation, currency depreciation and Forex challenges.
Focus on Angola
The Lusophone African region has shown progress in recent years, and Angola has the potential to drive the digital evolution and become the region's tech ecosystem backbone.
Here are reasons why investors should focus on Angola:
Macroeconomics: Macroeconomic stability has been restored and maintained through a more flexible exchange rate regime, restrictive monetary policy, and fiscal consolidation. The government has delivered on several key reforms since taking office in 2017, including the new law on Preventing and Combating Money Laundering, as well as the privatisation law, the setup of a one-stop window for investors to improve the business climate.
Angola is currently facing a shift from an oil and gas sector centred economy to a diversified economy. The country is on the path to pull out of recession in 2021, growing 2.7% – according to the financial ratings Moody's. Marking the end of the recession of the last five years.
Earlier this year Moody's raised the long-term foreign and local currency issuer rating of the Angolan government from Caa1 to B3, maintaining a stable outlook. The decision to upgrade the rating is driven by Moody's assessment that Angola's sovereign credit profile is improving, to be consistent with its peers at the B3 rating level. Stronger governance, particularly in the quality of the country's executive and legislative institutions, although at weak levels, is reflected in several aspects of the credit profile, which Moody's expects to be maintained.
The ecosystem – Angola's startup ecosystem has evolved significantly in recent years. This includes growth in numbers of new startups and scale-ups expanding to international markets. Furthermore, the ecosystem sees an increasing number of events, networks and programs created by private sector companies, incubators and accelerators.
Earlier this year, Angola entered in the World Ranking of Innovation Ecosystems for Startups for the first time. The index ranks Angola 115th in the world and 2nd for startups in Central Africa.
Technology ecosystems in the 'Big Four' have witnessed incredible growth in past years, mainly boosted by a torrent of venture funds, development finance, corporate involvement and tech hubs. The funding reaching Africa is highly focused, with the vast majority going to a handful of the fifty-four African nations. As a result, overall funding numbers overstate the impact of VC funding in Africa. Many African startups lack access to funding simply because of their home country.
I'm the CEO and founder of Tech Africa, with a portfolio including Angola's leading property portal www.angocasa.com and automotive portal www.angocarro.com. We were among the first Angolan startups to receive venture capital funding in 2015. Since then, few Angolan startups have been successful at raising funding.
The Angolan tech ecosystem is only scratching the surface of what is possible. Investment and inclusion are required to drive the digital economy to reach its full potential.
At the Africa Tech Festival 2021 – the leading tech and telecoms event on the continent, I'll be moderating a debate about Angola's tech ecosystem: Using Investment and Inclusion to drive the Digital Economy.
The Digital Angola panel discussion will be on November 10th 2021 from 11:35AM-12:15PM. Sign up here for the digital event: https://app.swapcard.com/event/africa-tech-festival-2021/planning/UGxhbm5pbmdfNzE4MTI1